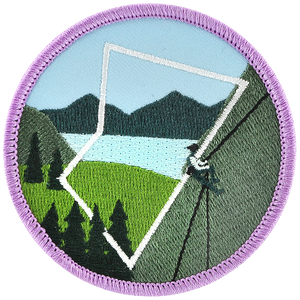 Who says that you have to stick to the beaten path? If you're the sort of person who sees an obstacle and climbs it just because it's there, you'll find a lifetime of adventure ready and waiting for you in B.C. 

Add the BC Parks Foundation climbing patch to your collection today, and showcase the adventurous spirit that allows you to tackle anything.

Share a photo of your new patch on Instagram by tagging #patchiton and @bcparksfdn.
About the patch
Use the iron-on backing or stitch the patch to your favourite gear. Link to instructions at the bottom of this page.
7 cm (2.75 inches) in diameter.
100% of profits support the BC Parks Foundation's vision of creating the best parks system in the world.