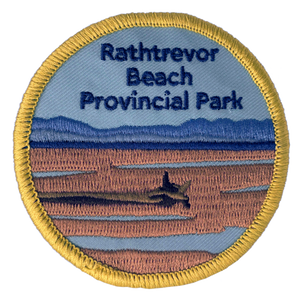 It's the beach that stretches on and on, two kilometers of sandy shoreline where low tide sees the ocean recede almost 1 kilometer, exposing an explorer's paradise.

Recall memories of strolling the beach year-round with the BC Parks Foundation Rathtrevor Beach Provincial Park patch. Share a photo of your new park patch on Instagram by tagging #patchiton and @bcparksfdn.
About the patch
Use the iron-on backing or stitch the patch to your favourite gear. Link to instructions at the bottom of this page.
7 cm (2.75 inches) in diameter.
100% of profits support the BC Parks Foundation's vision of creating the best parks system in the world.