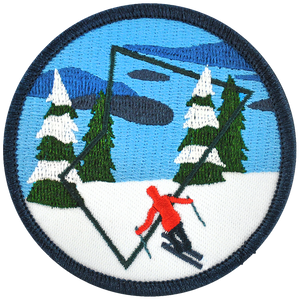 British Columbia is home to some of the finest skiing in the world, with 82 ski resorts and 1,790 kilometres of slopes to choose from, it's no surprise that snow sports are a staple of so many people's winters here.
Is there anything better than fresh snow on a bluebird day? Bring the memory of those magical days on your next winter trip with the BC Parks Foundation skiing patch. 
Share a photo of your new patch on Instagram by tagging #patchiton and @bcparksfdn.
About the patch
Use the iron-on backing or stitch the patch to your favourite gear. Link to instructions at the bottom of this page.
7 cm (2.75 inches) in diameter.
100% of profits support the BC Parks Foundation's vision of creating the best parks system in the world.
Graphic element is reflective of the BC Parks Foundation's logo, inspired by the shape of B.C.'s parks. Wear it proudly to show your support of B.C.'s beautiful spaces.