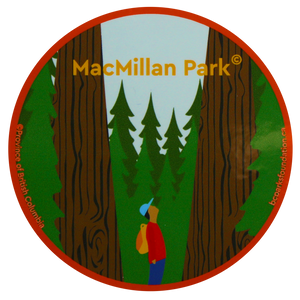 You can't take home the trees from the old growth forest, but you can take home this MacMillan Park© sticker. It' also supports B.C.'s provincial park system, so why wouldn't you?
About the sticker

Made in Canada.
Vinyl sticker with a gloss finish perfect for attaching to a hard surface, like a notebook, water bottle or laptop.
6.35 cm (2.5 inches) in diameter.
100% of profits support the BC Parks Foundation's vision of creating the best parks system in the world.